Medical Transcription Technology and Infrastructure
EHRscribe's state-of-the-art web based technology was created by some of the best minds in the transcription business. The process is simple, totally secure and highly efficient.
The health care provider dictates using any one of several options for dictation.
The audio files are then transmitted via secure connection to our U.S. Data Center.
Advanced work-pooling rules route the jobs to any one of our multiple offshore locations for initial production. While in production, a first level of QA is applied to the job.
Upon completion of the job, the work is routed back through our U.S. Data Center where it goes through another level of QA before being sent to the client.
Lastly, our clients have their choice of 4 different delivery options.
Simple.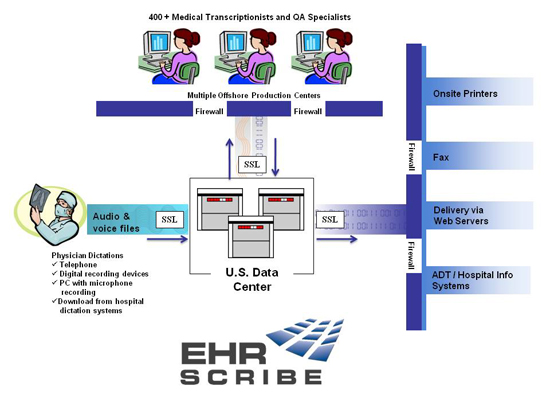 The beauty of our system is that it's interactive and easy to use. And, since it's completely web-based, you have no upfront investment.
Custom Medical Transcription Services for Hospitals
Custom Medical Transcription Services for Clinics and Physicians